LiUU created crowdliquidity, which helps businesses manage how and when they raise funds.
Crowdliquidity is an innovative way of collecting money.
It has aspects of crowdfunding and bank loans, but it was created improve on the shortcomings of these instruments. Particularly when it comes to helping existing businesses that are experiencing a period of temporary crisis.
What's more, our fees are low and we really want you to succeed with your business. Check out our detailed comparison for raising funds in the table below.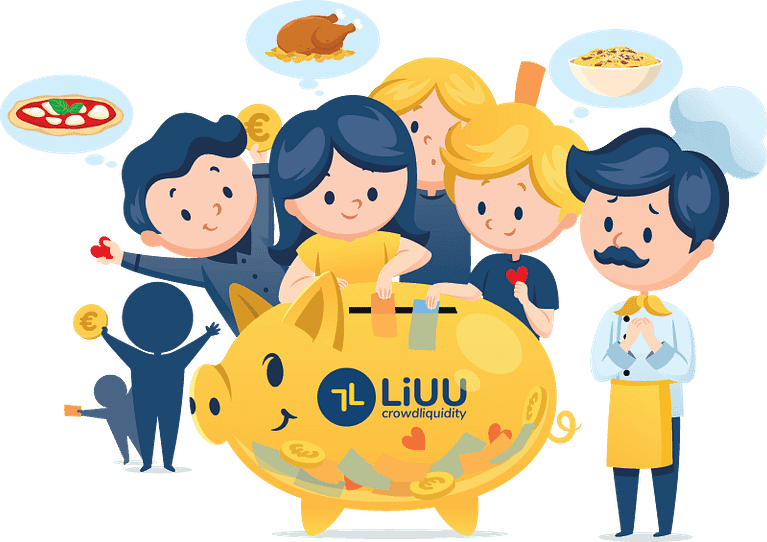 Type of Financing
Platform
How it works
Timing
This is ideal for:
Platform Commissions
Payment Fees1
Crowdliquidity
LiUU
Any business can collect liquidity in two ways:
- Offering products and services available at a future date
- Collecting free donations
- The funds raised are transferred weekly directly to the business
- The products and services offered are delivered in the manner and within the deadlines established at the time of sale
Existing businesses that:
- They can count on a consolidated customer base
- They are temporarily short of fluidity
- Otherwise they present a stable financial situation
5,5%2
From 1.4% + 0.25€ per transaction (varies by country)3
Crowdfunding
GoFundMe
Anyone can open a campaign to raise funds:
- No service / product / benefit is offered against the funds raised
- The funds raised are transferred directly to the campaign
Individuals and non-profit associations that raise funds for social purposes
0 - 5,0% (varies per country)4
2,9% + 0,3$ per transaction
Crowdfunding
Indiegogo & Kickstarter
Anyone can raise funds to develop innovative projects, usually in two ways:
- Incentive systems: those who donate have access to the product at more advantageous prices
- Free donations
- Normally the funds are transferred to the start up only when the set funding target is reached (if the target is not reached within a pre-established time, the funds are returned)
- The products and services offered are delivered in the manner and within the deadlines established at the time of sale
- Start-ups that need funds to finance the initial development of an idea, and to start the production of creative, innovative and technological products
- Existing businesses that want to build on a new product / service, but do not have the funds to finance its development internally
5,0%
3,0% + [0,2-0,3]$ per transaction
Loans
Traditional Banks
Existing commercial activities can receive financing, to be repaid according to a predetermined amortization plan
- The funds are released when the bank has concluded the merit checks on the commercial activity
- The funds must be repaid with interest according to the amortization plan defined when the loan is opened
Existing businesses that:
- They have a solid financial situation
- They can offer collateral to protect the loan
Total cost of the loan depends on several factors and is calculated ad-hoc by the bank
1. Source: https://www.crowdfunding.com/
2. To help you recover, LiUU will contribute to your campaign: once you achieve your campaign target, we will give you back 15% of the fees paid for the use of our platform!
3. Find your transaction fees here: https://stripe.com/en-it/pricing#pricing-details
4. Source: https://www.gofundme.com/pricing